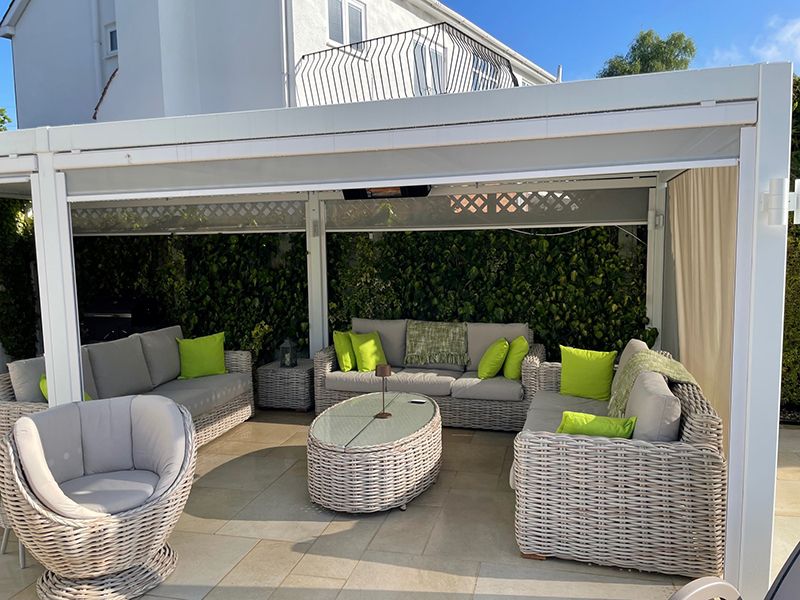 Galaxy Gazebos and Gorgeous Gardens!
Are you looking for more space for relaxing or entertaining?
One of our Galaxy Gazebos can give you an additional outdoor living space that can be used for multiple activities like dining, relaxing, entertaining, or even as an outdoor workspace.
A gazebo can provide a cool and comfortable place to relax and unwind during the hot summer.
By providing shade and protection from the sun's harmful rays, it can make spending time outdoors more enjoyable and safer. A gazebo can also provide shelter from the rain, allowing you to spend time outside even when the weather isn't ideal.
If you value your privacy when you are in your outdoor space, a gazebo can offer a sense of privacy and seclusion. You can close the roof and side screens to 
create a private retreat.
You can choose from a range of sizes to fit your space and requirements.
Our range of Galaxy Gazebos can give you a covered area which can seem like an extension on your home or you can create a separate protected area for your garden furniture. A Gazebo creates another space where you can chill out, eat, drink, entertain friends, create a kid's play area, have a sheltered area for a hot tub, work from home WFH, show off your outdoor bar, design your dream outdoor kitchen, the list is endless!
Browse our Galaxy Gazebo range for some inspiration and ideas about transforming your outdoor space.
'Live Chat' with our team for Moree advice.
We've got you covered!
The Kubek Team